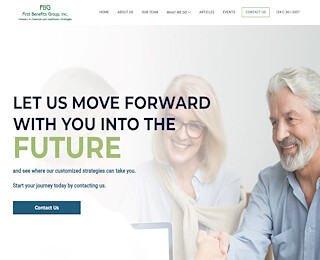 First Benefits Group, INC. is more than just another financial and healthcare strategic planning firm. Here, we take a unique approach to lifetime planning, and rather than using a standard cut and paste strategy for all, First Benefits Group, INC. customizes all of our life planning services according to the distinct needs and goals of each individual client we serve. Indeed, the services we provide are some of the most important services an adult can ever seek, but sadly, lifetime planning is often neglected, as lifetime planning tends to get lost in the full spectrum of other professional services.

Why the Need for Lifetime Planning?
Throughout your life, you will be faced with significant legal decisions that will impact your loved ones and affect the legacy you leave behind in profound ways. And although estate planning is a very important task, it's just one piece of the lifetime planning puzzle. At First Benefits, our partners can help you consider the key legal and non-legal factors that you need to work out so that all of your needs and desires are accounted for at pivotal points in your life.
What is the Ideal Age for Lifetime Planning?
Many of our clients are senior citizens. However, you don't have to be in your advanced years for lifetime planning. In fact, the younger, the better! Whether you are 25, 35, 45, 55, 65, or 75, none of us are promised tomorrow. Therefore, a Will is required at every stage of life. Without a Will, your wishes will likely be ignored, and your assets may wind up in hands that you never intended them to be in. First Benefits Group, INC. will be there to assist with life planning and help you make key decisions at key times consistently.
The Discovery Process
Whenever we work with a client to plan for their future, we always walk them through the discovery process. This is where we get to know our clients. Particularly, we get to know their values, beliefs, and financial goals. By doing so, we can better assess their predicaments, problems, and challenges (PPC). Armed with a clear picture of your personality, as well as your financial strengths and weaknesses, we can then figure out how to best minimize or eliminate these PPCs.
Developing a Customized Strategy
In a perfect world, all of us would begin retirement planning in our early to mid-twenties. However, that is seldom the case. It's not uncommon for us to work with clients who are in their forties and fifties and are just beginning to take the retirement planning phase seriously. There are different factors in determining a planning strategy for clients of different ages. For example, clients who are younger are more tolerant of risk than clients who are older. At the same time, a client who is older might feel that they need to take more risks to give them the best chance of reaching their retirement goals. First Benefits Group, INC. can help you put it all together cohesively.
First Benefits
First Benefits Group
941-361-3057
306 N. Rhodes Avenue
Suite 111 Sarasota
FL
34237
View Larger Map
We welcome your comments!